Customer Reviews
Filter Reviews:
COLOR
skin
face
coverage
airbrush look
foundations
everywhere
brown makeup marks
Mary Kay
others
Ashley H.

United States
I recommend this product
01/07/2021
Flawless
I love this foundation! DoC is one of the brands I've been waiting to try and decided to go for it. I was skeptical at first because who gets their shade right the first time when ordering online It matches and I love the finish it's the only thing I've been using so I'll be getting some more soon. This is a staple for me now.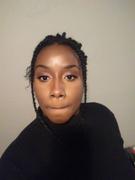 Charmione M.

United States
09/01/2020
Best foundation
The color matches my skin perfect, it just blends right in with my natural skin this is one of my favorite foundations ever
Rakeya H.

United States
Sciatta

United States
02/26/2020
Incredible!
I am blown away! I tried it on my hand and it looked like it wasn't a match, but when I put it on my face, you couldn't even see it! My mom was in shock and already wants to get one in her shade. I can't stop raving about it on Twitter. It's literally my skin in a bottle. This is the first time I bought foundation based on a shade finding quiz and I'm seriously blown away. Trust the quiz and you won't be disappointed!
Erin A.

United States
01/03/2020
Perfect Match
I finally made the switch to a new foundation after using Mary Kay and many others for years. This product is bomb! Light weight and still manages to give great coverage! Also this foundation does not get everywhere. I can touch my face and it won't leave brown makeup marks all over the place!